where student life flourishes
The BDE, which stands for "Bureau des élèves", is the students' union elected each year to represent the students. It is the supreme body that maintains fluid communication with the administration through the Dean of Students. The BDE is responsible for community involvement and links between the different cohorts. BDE members facilitate the integration and welcome of new students through a number of engaging and fun activities offered at the start of each academic year. They are also in charge of the team-building weekend, the post-graduation gala evening and any other activity that promotes student life and talent. As part of their mission, they support and coordinate the activities of the clubs they host within their association.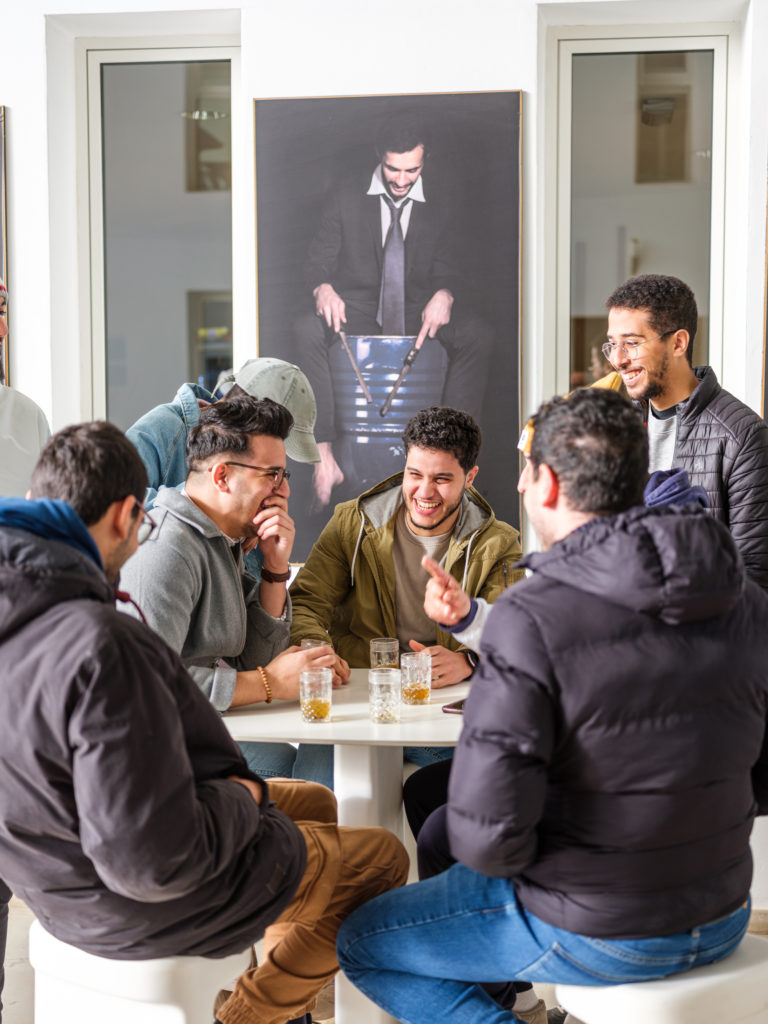 Le congrès est un club dont le but est de sensibiliser les futurs ingénieurs aux problématiques africaines et aux stratégies de positionnement sur le marché. Le club organise des conférences majeures, des tables rondes et des activités de partage d'expérience. Central Aviation and Aerospace Association est l'espace des passionnés de l'aviation à ECC.
Le club organise des ateliers théoriques et pratiques sur plusieurs sujets liés à l'aéronautique et à l'espace, des visites chez les leaders de l'industrie aéronautique et connecte ses membres au réseau d'ingénieurs passionnés d'aéronautique et aux événements tant au niveau local qu'international. Le club offre également aux étudiants une formation théorique préliminaire au pilotage ainsi qu'une formation sur des simulateurs de vol en partenariat avec (MAPA) Morocco Aviation Private Academy. ECC-Entreprises est le club qui organise l'événement phare de l'école, le "Forum d'affaires ECC", un lieu de rencontre entre de jeunes ingénieurs aspirants et des leaders d'entreprises expérimentés. Élaboré par des étudiants et fréquenté par de nombreuses entreprises renommées, groupes, banques et leaders de l'industrie, le forum offre aux étudiants l'opportunité de décrocher des stages et d'explorer des opportunités d'emploi. Bureau des arts donne vie à l'art et à la culture à travers plusieurs événements artistiques récurrents. Il s'engage à promouvoir les initiatives et les efforts artistiques pour stimuler la créativité et mettre en valeur les talents à travers le dessin, la musique et le théâtre. Central MUN, Model United Nations, est une simulation éducative des assemblées des Nations Unies. Animés par le désir de discuter des problématiques mondiales actuelles, les membres incarnent le rôle de délégués et rivalisent pour défendre les droits et les intérêts de leurs pays respectifs lors d'un événement MUN Senior auquel des écoles locales et internationales sont invitées à participer. Pour se préparer à cet événement à part entière, les membres organisent une assemblée Junior, des conférences, des formations et des sessions récréatives tout au long de l'année. Centrale Tech est le club responsable de la technologie et de la numérisation. C'est aussi un point de rencontre pour les geeks et les nerds qui partagent leur passion pour la robotique, le big data, l'IA et le codage. L'objectif du club est également de faciliter l'accès au Fablab ainsi que de trouver des emplois Tech à temps partiel pour les étudiants. Les Tech Days et compétitions locales et internationales autour de la technologie font partie des nombreux événements que les membres entendent organiser chaque année académique. Le Rotaract est le club humanitaire d'ECC. Créée en septembre 2015, elle intervient principalement dans le domaine de l'éducation à travers des campagnes et des événements réguliers. La campagne humanitaire est l'événement majeur qui pousse 50 à 60 volontaires à se rendre dans des zones reculées pendant un week-end pour rénover des écoles, distribuer des paniers alimentaires et animer des ateliers ludiques pour les enfants.
Par ailleurs, le Rotaract avec « L'heure joyeuse » organise des ateliers pour les élèves en difficulté scolaire dans le cadre d'un projet intitulé « Big Brother/Sister. L'objectif est de favoriser l'engagement citoyen des élèves-ingénieurs. L'entrepreneuriat social est la colonne vertébrale du Club Enactus. Elle donne l'opportunité à de jeunes étudiants du centre de monter des projets autour de diverses innovations.
Enactus organise des conférences et des événements dans le but d'orienter et d'accompagner les projets de ses membres : de l'analyse des besoins à la conception proprement dite du projet jusqu'à la préparation pour la Coupe du monde Enactus.